Giving back is part of Vant4ge's DNA—that's why employees are excited about the opportunity to join the Vant4ge & Persevere speaker series. 
Persevere is a nonprofit dedicated to educating and mentoring currently incarcerated men and women. Through programs behind prison walls, Persevere teaches inmates how to code, certifies them as full-stack developers, and places them in technology jobs when they're released. In its mission to help give justice-involved men and women every chance to succeed, it has quite a bit in common with Vant4ge. 
To help stay safe during the COVID-19 pandemic, the instructors at Persevere are currently teaching classes remotely through live video conferencing, and they decided to take advantage of this remote environment by inviting several guest speakers to help out. This is a new endeavor—in fact, it is a first in the industry because no one has ever taught classes behind prison walls through live video conferencing before. So they decided to start off with guest speakers who would be great fits for the job. 
The Vant4ge team wanted to help any way they could. Many employees signed up to give an hour of their time to speak with students, and they will address a variety of topics. Overall, the intent of the speaker series is to show Persevere students the many different roles they could have in a technology company, while also allowing them to ask experts in the field any questions they might have about possible careers. 
The series already has a promising start; students are engaged, the speakers are enthusiastic, and it has been a great learning opportunity for everyone involved. The kind of conversations are rare to find in a prison setting, and Persevere is hoping to facilitate even more of them over the next few years.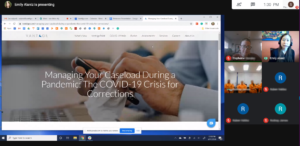 The Vant4ge & Persevere speaker series is still ongoing, and we hope that many students are able to take away new information and inspiration from the talks.